Welcome
Solway Community School is at the heart of the community in Silloth. Established over 50 years ago, we have a reputation as school where students of all abilities excel. Our big strength is our small size – everyone knows everyone else; yet we are able to provide a wide range of courses to match learners' strengths and interests. We know everyone – and we help them develop into unique and self-confident individuals.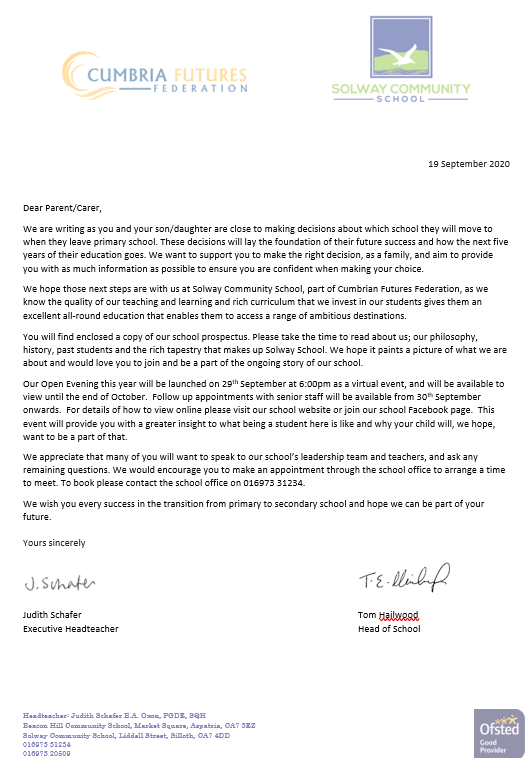 Update for parents – managing student illnesses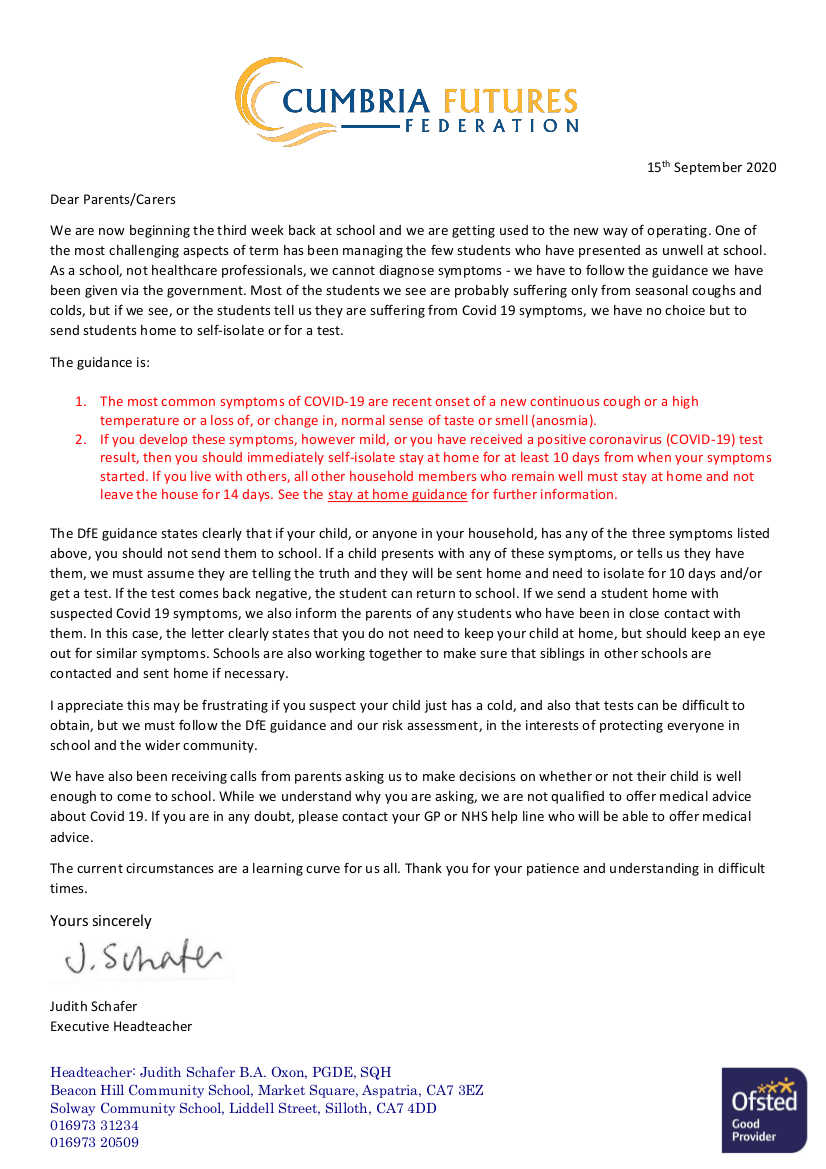 Updated Privacy Notices and processing data during Covid-19
We have updated our privacy notices for students and parents here, and need to let all parents, visitors, students and staff know that personal data of employees, parents or visitors to school may be shared with NHS / Public Health Agencies / NHS Track and Trace where relevant to the Covid pandemic.  We will share information only with appropriate authorities, only through secure methods and we will limit the data shared to the minimum necessary.  We will verify the identity of individuals requesting personal data and keep a record of the data shared, and where practical will notify individuals whose data has been shared.  If you have any concerns or queries please contact our Data Protection Lead via the School Office.
Arrangements for 3rd September – letter to parents 21/08/2020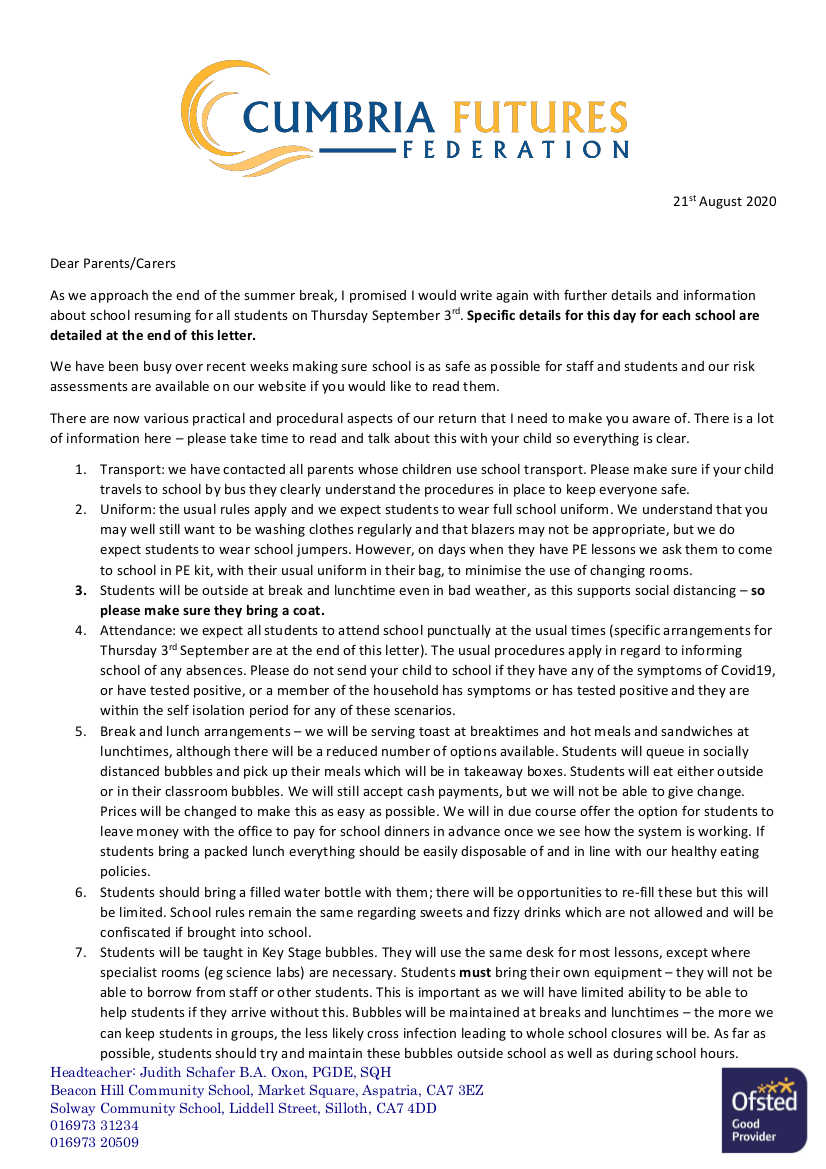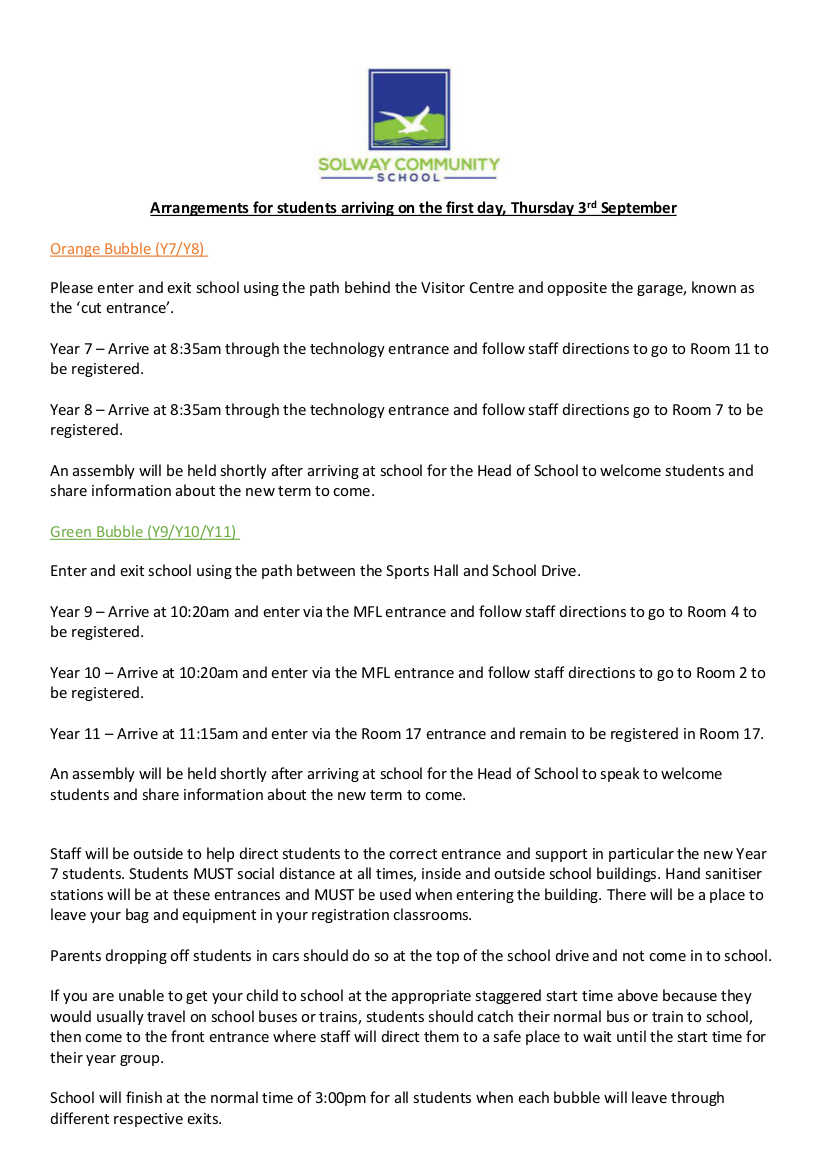 Letter to Parents 13/07/2020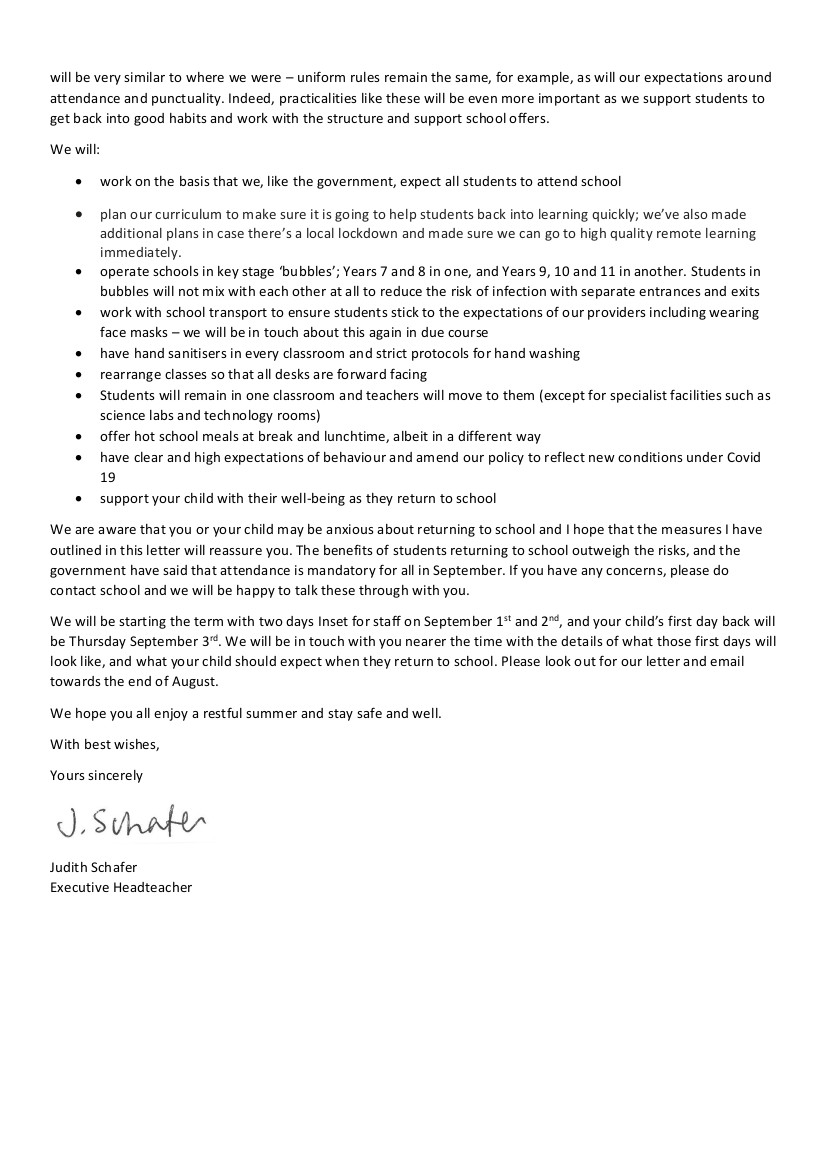 Year 11 – Cumbria Activate Your Future
Working with local FE colleges and other schools, we have produced Cumbria Activate Your Future – an online learning portal where you can register to access a host of careers guidance resources, followed by a collection of online resources in a range of technical skills areas.

Our offer includes introductions to the following vocational subject pathways:
Business
Construction
Engineering
Hair and Beauty
The Arts
Catering
Health and Social Care
Early Years
Information Technology
The self- study packages are free of charge, and we have set up a username and password already for you on study.cumbriaconnectandlearn.co.uk
Please check your emails for your username and password
Our aim is to support young people with their September choices and if you've already made an application for college in September, to get a head start on the technical subject you've chosen – or to try a range to make sure you've made the right choice
Parent Letter 22/05/2020
Letter from CCC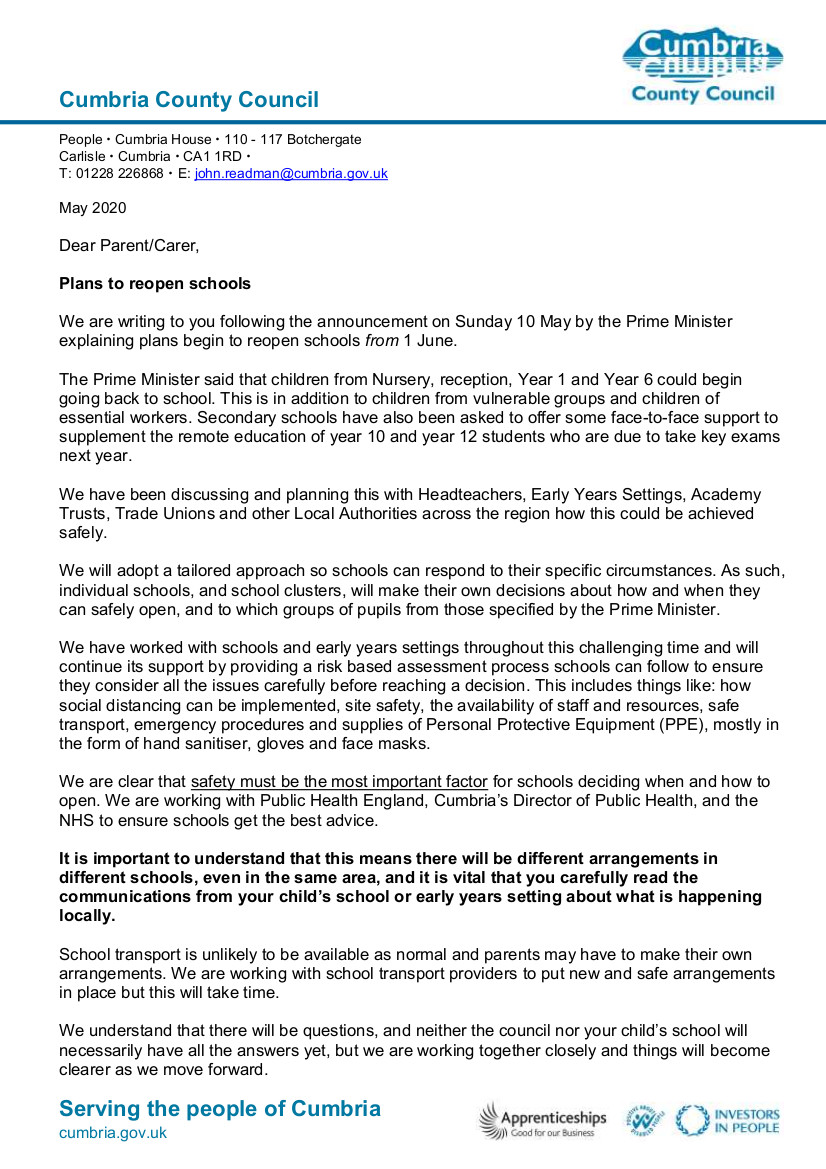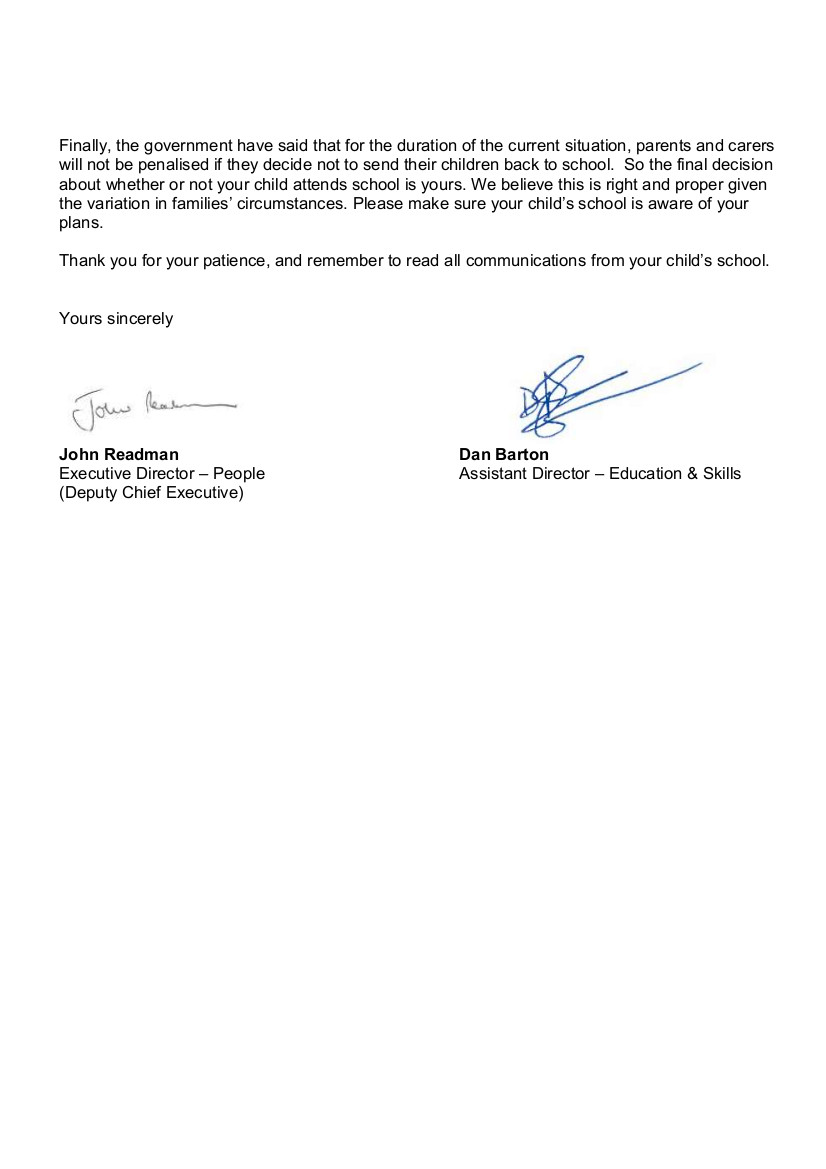 Letter to parents
Uniform Letter
6th April 2020
Dear Parent / Carer,
Prior to the school closing due to the current pandemic, we had undertaken a review of the school uniform policy. As part of this, students were asked their views on the current uniform and what improvements or changes they would like to make to it. We were delighted with their sensible response and following this, we have taken on board their mature and well expressed views.
The main points made by our students were:
We think having a smart school uniform is important.
If our uniform were smarter we would take more pride wearing it.
We are dissatisfied with how smart our current uniform is, in particular the polo shirt.
We want to feel proud of our appearance when in school and representing school on visits.
Other school's uniforms are smarter than our own; in particular, we think blazers make other schools look smarter.
A choice of wearing a blazer would be good.
Everyone should wear a school tie which should be uniform in length as currently ties look scruffy.
Taking the students' opinions into account, we have also debated possible changes with governors and senior leadership in school and as a result we will be asking all students to wear a shirt and tie rather than a polo shirt from September. This presents a much smarter uniform and one the students can take greater pride in wearing. Even in these unprecedented times staff are working hard to move forward with making improvements with our school and this change is part of that. This is the only change we are making from September, as we recognise we are currently dealing within unprecedented circumstances. Other expectations detailed below concerning school trousers and skirts remains as it has always been:
Black school shoes (NOT trainers)
Tailored black trousers (NOT tight fitting or leggings) or black skirt (pleated / half pleated / straight – NOT tight) of respectable length
White shirt
School tie
School jumper (with logo)
Further to this, in September we will begin a consultation with parents, students and staff about the introduction of a school blazer in the Spring term. In this consultation we will be asking parents to give us feedback on students having the choice of wearing a new blazer alongside or in addition to the current school jumper. This consultation period will also give students the opportunity to show they can wear the current school tie in a smart fashion before a possible introduction of a clip-on tie. Further information of how you can give feedback in this consultation will be shared in September.
This consultation was begun before the current pandemic forced the closure of schools; however, we continue to work hard to make sure our school is moving forward where we can, and look forward to picking this up with all stakeholders in September.
Yours sincerely
Tom Hailwood
Deputy Head
Letter to Parents
Kooth
Click here for more information
Safeguarding & DA flyer for Cumbria residents
Letter to Year 11 Parents, Carers and Students
Below please find a letter to parents, carers and year 11 students.
For the full letter including statement from Ofqual, please open this link: letter to parents, carers and Year 11 students
Wellbeing
Attached some very useful wellbeing tips that might be of use to parents and students.
Ofsted
You will be aware that in June we underwent a full Ofsted school inspection.
We are delighted to report that the inspection confirmed what we have known for some time – that Solway is a good school.
The inspection provided us with the opportunity to demonstrate the progress and improvements that have taken place at Solway over the last two years. We could not have been more proud of the students and staff for the commitment they showed during the inspection and the dedication and hard work they all – students and staff – put in every day.
We are delighted and proud that Ofsted has recognised and validated all the excellent work going on at Solway. However, everything we have done at our school has been because we believed it was the right thing to do to move the school forward. The changes we have made were the result of our own improvement agenda. We are constantly moving forward and always looking to get better at what we do. We will continue to focus on raising standards and make sure that our students are given the very best chances of success and a first class quality education.
The report and the judgement recognises that our values and vision are central to everything we do; we do the right thing for our students, even when that is difficult; we make what we believe are the right choices for the young people in our care.
I'd like to take this opportunity also to thank you all for your continued support and good will which is an important part of the school's success.
Please find attached a copy of the full inspection report, which is also available on the school website. Please do contact us at school should you have any questions.
Solway School Ofsted Report 2019