Welcome
Solway Community School is at the heart of the community in Silloth. Established over 50 years ago, we have a reputation as school where students of all abilities excel. Our big strength is our small size – everyone knows everyone else; yet we are able to provide a wide range of courses to match learners' strengths and interests. We know everyone – and we help them develop into unique and self-confident individuals.
Free School Meal – Lunches during Easter Holidays
Due to a delay in obtaining the Co-op cards for our FSM students, we have this week been offering collection of packed lunches for students who are eligible for a free school meal.
Thank you to those parents and students who came to collect their lunches today (Tuesday). We will repeat the arrangements tomorrow (Wednesday 1st April) – those who live in Silloth should come to the kitchen door at school between 10.30am and 11.30am to collect a packed lunch.
From tomorrow (Wednesday 1st April) we are also hoping to be able to offer delivery for FSM students who live outside Silloth. To register for this service, please comment  on the facebook post on our page or contact school on office@solway.cumbria.sch.uk and we will be in touch to confirm arrangements.
Easter Letter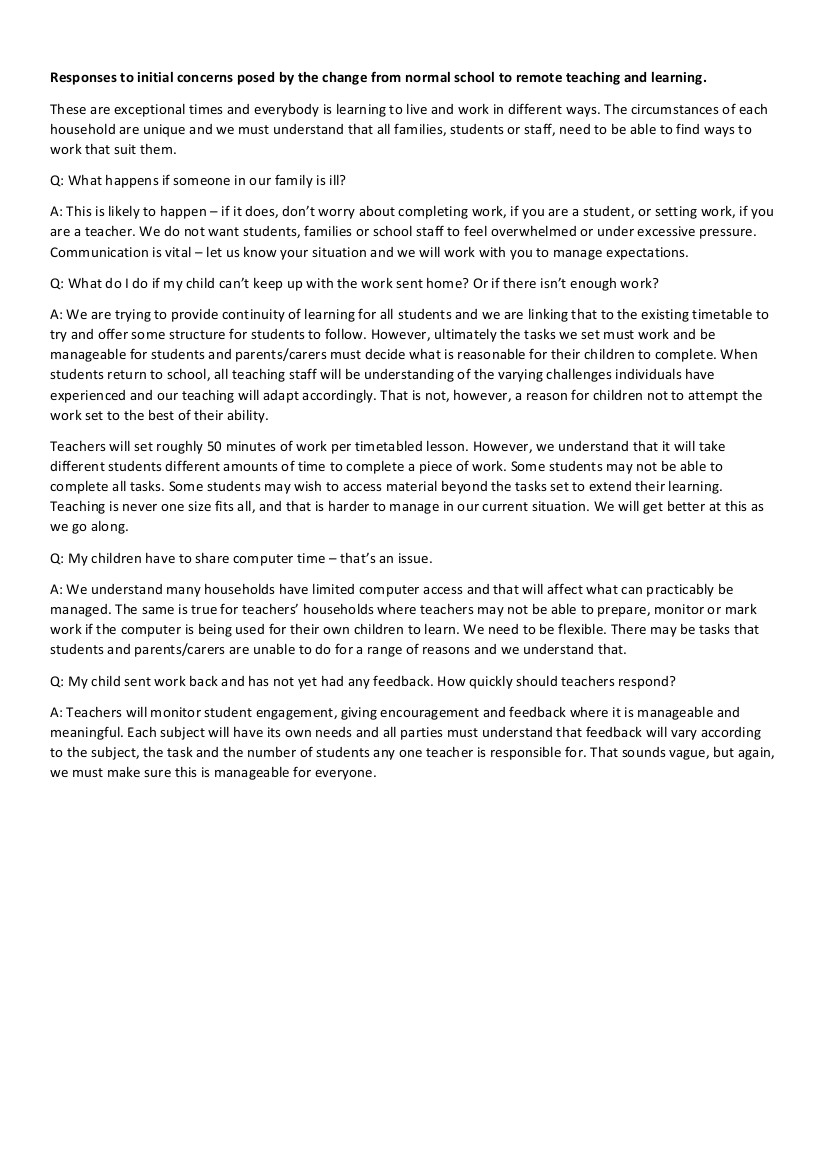 Easter Childcare

As you know, schools are supporting key workers with emergency childcare provision over the Easter holidays in a continuation of the provision this week. In order for us to assess the scale of the provision necessary, can you please email school if you believe you will need to access provision over the Easter holidays for your children.
Government advice remains the same; this is emergency provision, for critical workers who meet the government's criteria, who are unable to provide for their children elsewhere. If at all possible, all children should be at home.
Our provision will be subject to the same requirements (proof of employment, between 9:00 and 3:00, please bring a packed lunch) and will be provided at Silloth Primary School.
Please let us know via email if you are expecting your children to need care from Monday 30th March to allow us to plan. Please email office@solway.cumbria.sch.uk and we will forward a link to a questionnaire for you to complete to book childcare at Silloth Primary School.
We will post updates and information on the school's Facebook and websites. Thank you for your support and understanding at this difficult time.
Coronavirus Update 24th March

Please note that Solway Community School is closed with immediate effect.  We will notify parents through the usual channels when we are open again.  In an emergency please contact 07395 322 430.
Children of key workers who require emergency childcare should contact Silloth Primary who are currently providing childcare for those who qualify.
GCSE Exams Letter

Priority Childcare / Education at Solway

Re: Arrangements for priority childcare/education in Solway Community School next week
Further to the letter from Dan Barton at Cumbria County Council regarding the situation with Covid-19, I am writing to advise you of the arrangements for next week. I can confirm that Solway Community School will be open on Monday 23rd March from 9.30 – 3.00 in order to provide priority childcare for parents who have been identified as key workers, and who cannot make any other arrangements for childcare.
The situation will develop over the week depending on the level of demand that we experience on Monday morning and we will keep you informed as soon as we can.
Arrangements and protocols for how children will physically register at school on Monday morning are being worked through. Parents should bring identification and proof of employment.
With thanks in advance for your support and patience in this unprecedented and difficult situation.
Yours sincerely
Judith Schafer
Executive Headteacher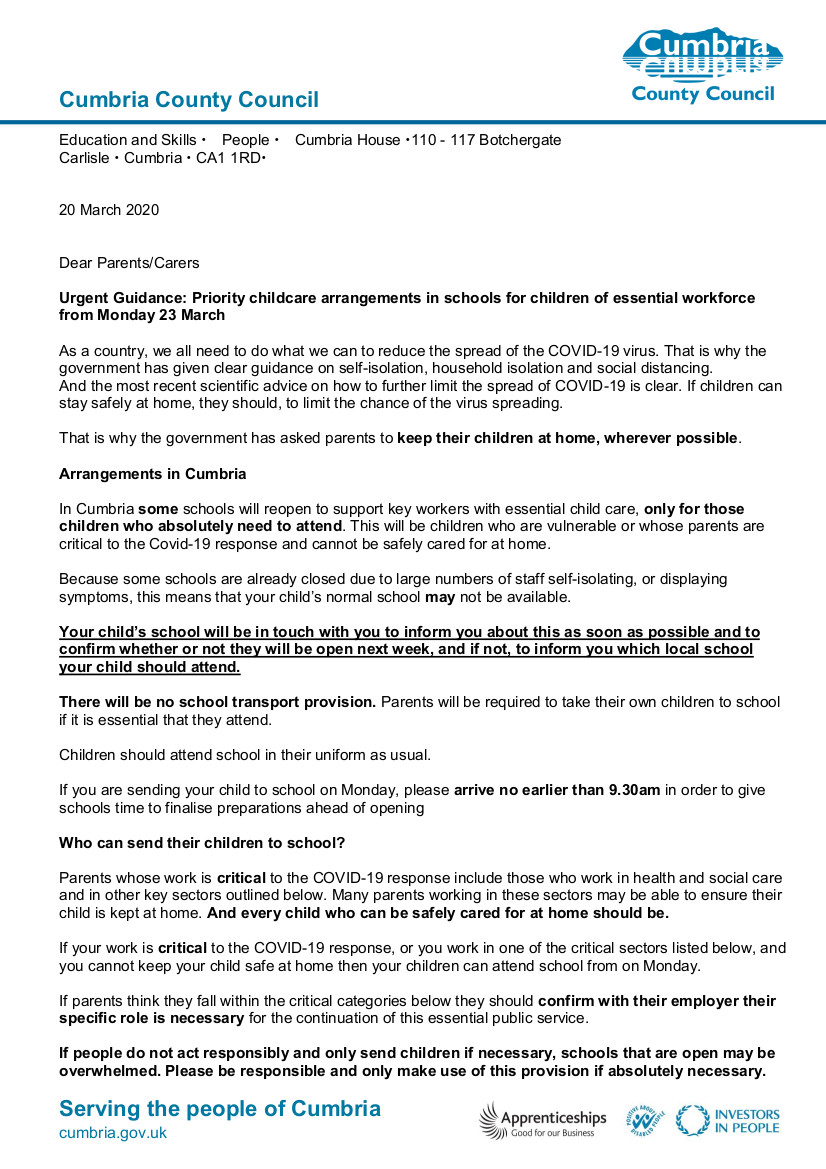 School Closure
Dear Parents/Carers
As you will be aware, all schools in England are closing on Friday afternoon (20th March 2020) as part of the measures being taken to suppress the spread of Coronavirus. Over the last week, various year groups have been sent home from both Beacon Hill and Solway as staff numbers due to self-isolation made it impossible to operate the school safely. I would like to thank all parents and students for the support we have received and the mature and sensible manner in which students have engaged with learning at home which has been put into place over the last few days.
Staff are working hard to make sure that students' learning can continue remotely, and I am delighted that many students have been in regular touch with staff and are already completing lessons and sending work back. This will continue next week and after Easter. If any students have problems accessing work, please contact the school and we will try to help. Students will be working largely online; we would like to remind students all we have taught them about keeping safe online. Use the internet wisely and beware of anything you don't recognise.
It is important that all students recognise the reasons why schools are closing, and stay at home as much as possible, both to slow the spread of the disease, and to make sure their education is compromised as little as possible.
The situation is particularly difficult for Year 11 students, whose GCSE exams in the summer have been cancelled. I am confident the Secretary of State will listen to their concerns over qualifications, and that a way will be found to make sure no students are disadvantaged as a result of the current pandemic. To support Year 11 students, we are sourcing materials from Sixth Forms and FE colleges for them to work on over the next weeks and months which will help them make the transition to the destinations they are heading to in September.
I am aware there remains some confusion over provision for children of key workers and vulnerable children next week. We are waiting for guidance to come from the Local Authority about which schools will be asked to remain open to provide this. Please be assured we will pass all information on as soon as it is available – please watch out for messages on Facebook and the school website.  This is a fluid situation which is changing by the minute and we will be in touch as needs be to keep you updated on the current situation.
This is a worrying time for everyone and I would like to thank you all for your support and patience. If you have any concerns, please do email the school and we will do our best to help. We are looking forward to welcoming our students back to school as soon as possible. Meanwhile, we hope you all stay well.
Yours sincerely
Judith Schafer
Executive Headteacher, Solway and Beacon Hill Community Schools
Coronavirus Update and School Closure
As you will be aware we are closing from Friday afternoon and following the strategic plan of the local authority who are coordinating provision for children of key workers and vulnerable students from next week.
Some schools may be required to remain open to provide child care for school age children whose parents work in health or social care and cannot make alternative childcare arrangements.
We will let parents know what that provision will look like and where it will happen as soon as we can.
In the meantime, please complete the online survey form linked below; if you are unable to complete the form online, please contact school. Any questions, please contact the school office.
Wellbeing
Attached some very useful wellbeing tips that might be of use to parents and students.
Advice to Schools

Letter from the Chair of Governors about a change to the management structure in school.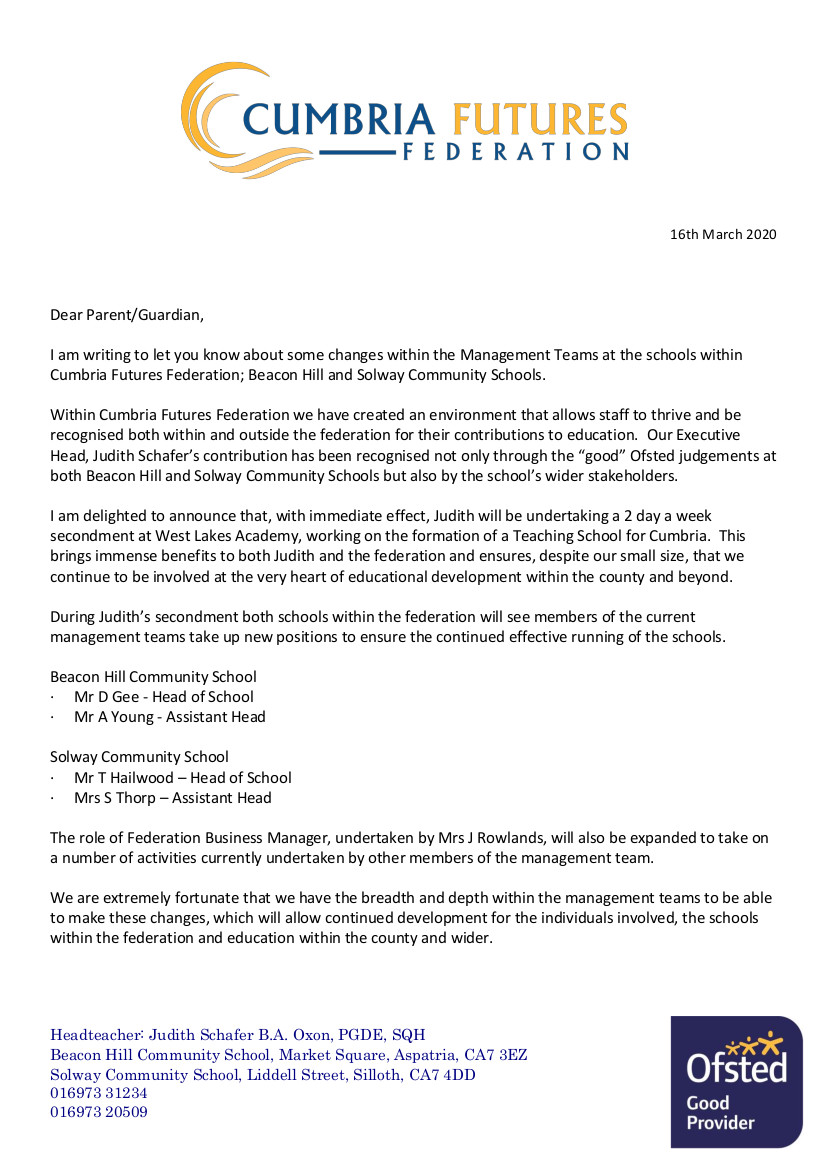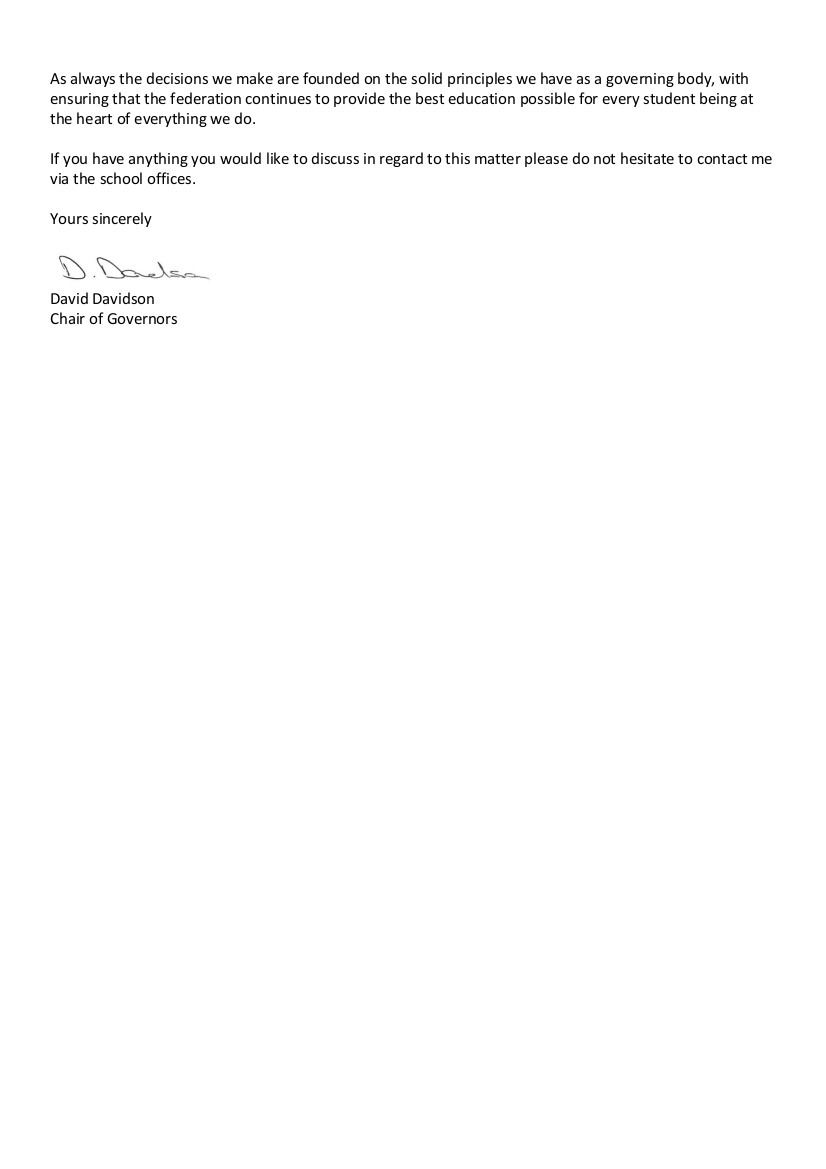 Coronavirus – 13th March Update

Dear Parent/Carer
School response to COVID-19 (coronavirus)
Cases of coronavirus are predicted to increase. This means the likelihood of a student, parent or member of staff testing positive or being in contact with a confirmed case and being advised to self-isolate is increasing. The current situation is that if there is a confirmed case at school then Public Health England will advise on the appropriate and proportionate steps to take. Where a student or staff member is self-isolating due to contact with a confirmed case the current national advice is that schools should remain open.
We are not aware of any cases that affect our school community currently. However, students should stay at home for seven days if they have a fever or a persistent dry cough. If you or your child are unwell, so not go to a GP surgery or hospital. Use the NHS 111 line if:
you feel you cannot cope with your symptoms at home
your condition gets worse
your symptoms do not get better after 7 days
I would like to reassure you that the health and wellbeing of students and staff is our top priority. Having carefully considered the current situation in Cumbria, we are going to take the following measures with immediate effect:
There will be no parent meetings in school unless you are notified otherwise on an individual basis. This means the Year 9/10 Parents' Evening, due to take place before Easter, is postponed.
Students and staff will not move between Solway and Beacon Hill until further notice.
All trips and visits planned for before Easter are postponed and will be rearranged for next term. This includes the Cumbrian Award trips planned for next week. We will take advice from the Foreign and Commonwealth Office (FCO) about the bike challenge to Spain planned for May. Decisions on other trips planned for later in the year such as Duke of Edinburgh expeditions will be made nearer the time. Please be aware it may be necessary to take decisions to cancel trips at short notice.
All sports fixtures will be cancelled until further notice.
We will look to minimise visitors in school. Anyone who does come into reception will be asked to sanitise their hands and be given a copy of the Public Health England leaflet 'Advice on coronavirus for places of education' (attached).
We would ask you to consider carefully any travel arrangements you might be planning over the Easter holidays. Please be aware that the guidance about this, which can be found on the FCO website, frequently changes but it could mean that a period of self-isolation might be necessary on your return. Please notify us immediately at the start of the summer term if this is the case.
We are aware that students in Year 11 will be anxious about upcoming exams. Please be assured we are seeking advice on this from the awarding bodies and we will inform students and parents of proposed actions as soon as we know.
In addition to these actions, we have put in place a number of measures with the students. This includes briefing them in form time and assemblies, putting notices and signage up in every classroom and around the school to encourage good hygiene and regularly checking the soap dispensers to ensure that there is always an adequate supply.
We will continue to monitor the coronavirus situation closely and follow the advice from Public Health England and the Department for Education. The Department for Education's advice page for schools can be found using the link below:
https://www.gov.uk/government/publications/guidance-to-educational-settings-about-covid-19/guidance-to-educational-settings-about-covid-19
The most important advice is to limit the spread of the virus. Health-care professionals stress the importance of hygiene and hand washing. They recommend:
Wash your hands often with soap and water
Catch it, Bin it, Kill it: Covering your cough or sneeze with a tissue, then throwing the tissue in a bin
People who feel unwell should stay at home
Students, staff and visitors should wash their hands:
After using public transport
Before leaving home and on arrival at school
After using the toilet
After breaks and sporting activities
Before eating any food, including snacks
We will continue to highlight this important advice to students. We will contact parents/carers immediately with any new arrangements that may have to be put in place if circumstances do change in any way.
Ofsted
You will be aware that in June we underwent a full Ofsted school inspection.
We are delighted to report that the inspection confirmed what we have known for some time – that Solway is a good school.
The inspection provided us with the opportunity to demonstrate the progress and improvements that have taken place at Solway over the last two years. We could not have been more proud of the students and staff for the commitment they showed during the inspection and the dedication and hard work they all – students and staff – put in every day.
We are delighted and proud that Ofsted has recognised and validated all the excellent work going on at Solway. However, everything we have done at our school has been because we believed it was the right thing to do to move the school forward. The changes we have made were the result of our own improvement agenda. We are constantly moving forward and always looking to get better at what we do. We will continue to focus on raising standards and make sure that our students are given the very best chances of success and a first class quality education.
The report and the judgement recognises that our values and vision are central to everything we do; we do the right thing for our students, even when that is difficult; we make what we believe are the right choices for the young people in our care.
I'd like to take this opportunity also to thank you all for your continued support and good will which is an important part of the school's success.
Please find attached a copy of the full inspection report, which is also available on the school website. Please do contact us at school should you have any questions.
Solway School Ofsted Report 2019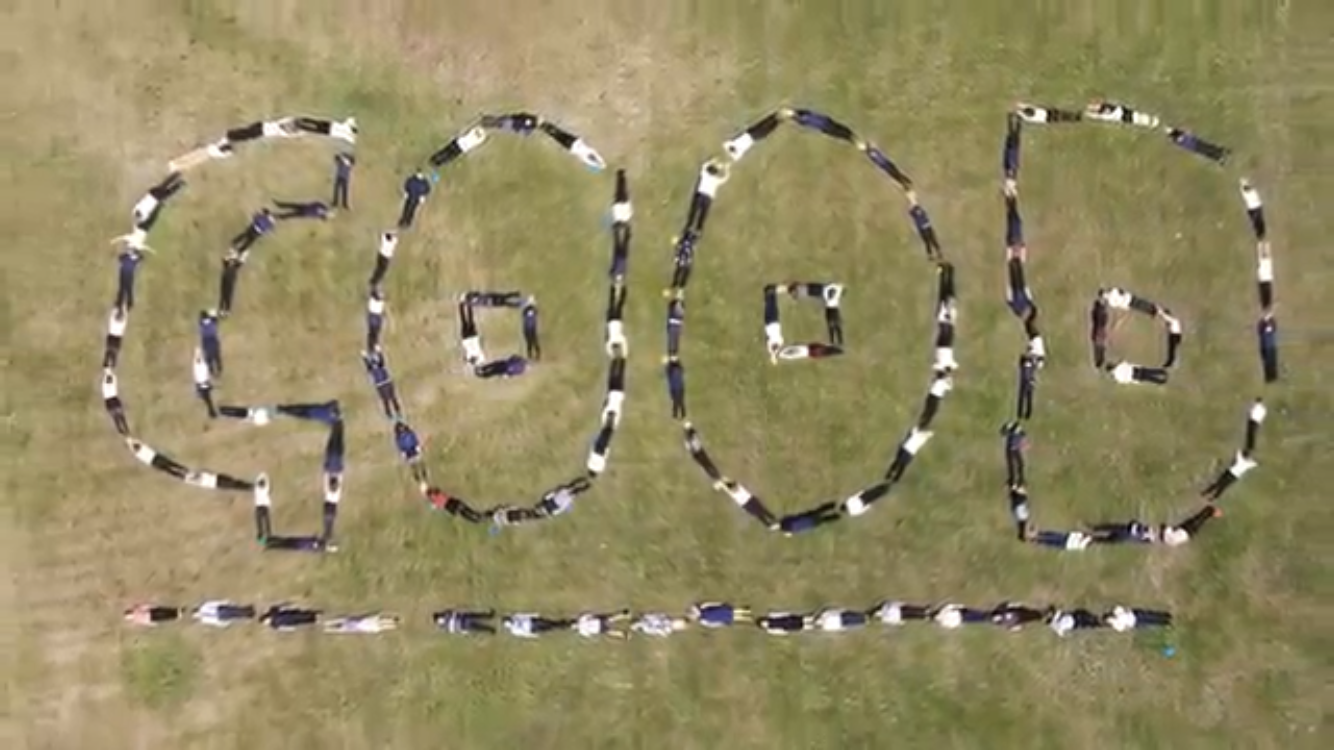 Digital Literacy Day
On Wednesday, 10th July, students from Solway Community School were taught by international photographer, Clive Booth, as part of issue raising, creative, photographic storytelling workshops organised by Canon, Sellafield and the Ideas Foundation, in partnership with the National Association for the Teaching of English.
The project was all putting young people at the heart of community activism.
This was part of a project involving 5 local schools in West Cumbria (Millom School, Whitehaven Academy, Solway Community School, Silloth Primary School and Beacon Hill Community School), participating between 8-12 July, 400 students aged 10-18 were challenged to create powerful visual campaigns bringing to life the issues captured within the 17 UN Sustainable Development Goals, giving particular focus to climate change and health. The students were given the tools and skills to do this through workshops run by Clive who is a Canon ambassador and professional photographer and filmmaker with clients including Louis Vuitton, Aston Martin and Birmingham Royal Ballet. Other workshops focused on using Adobe software and on writing skills.
After the workshops, students commented on their excitement at having the opportunity to taste careers they were interested in pursuing.
There has also been a positive drive to reduce single use plastics within the school and local the community. One of the initiatives is to reuse any plastics in the first instance through the DT and Art departments through a central crush hall collection.
In Science the following day, a group of year 10 students extended their presentations to include their scientific understanding of polymers and different types of plastics
This unique programme was been created by Canon, Sellafield and the Ideas Foundation, a charity that believes ideas don't come from one place or one type of person and aims to move creative industries in a more diverse direction. The workshops were an opportunity to give young people voice, working to raise awareness of, and to solve, real life issues. Canon wants to give young people a voice and the power to talk about how issues are impacting their own community. They are group in society that is often over-looked when it comes to talking about community problems but can give unique and powerful insights into social and environmental problems.
Students from the workshops will be invited to showcase their work later in the year at The Beacon Museum in Whitehaven.