Body Image
When the year 10 class of Solway Community Technology College were asked to write an article for the BBC, immediately the subject 'body image' came up. The year 10 class all agree that it's a major problem that doesn't get enough publicity. The reasons for this involve consequences of not having what society classes as the 'perfect body', and we wanted to ask, what is the perfect body?
Society; the perfect body is a thin one. What we gathered from our research is that people in the news and social media are striving to lose weight in hopes of obtaining a slim figure. It's a common remark when people accuse someone of being overweight, when really, they're just not "perfect." Such statements may lead young, easily influenced minds to believe this to be true. Believing such things that society tells us can lead to major insecurities which can later make people develop disorders such as: anxiety; bulimia; anorexia or dysmorphic disorder in desperate attempts to be accepted.
However, it seems that businesses are forcing the idea that being thin is only for the rich, with gym memberships costing over £20 per month, there's also the issue of fast foods being sold at a low cost and are located almost everywhere.
At the social side of things, we did an experiment to find out what people at our school thought was the perfect body image. We asked some students of different year groups to draw and explain their ideal body image. We also asked them to write at the bottom of the drawing who their role model is. These are the results.
As you can see from the student drawn images, there is a pattern that the bodies drawn are all thin and strong, no-one drew anything like themselves so it gave off the impression that no-one is comfortable with their look. One quote stood out from a pupil who said "let me think of someone thin" when we asked who their role model was which proved to us that the society point of view has been adopted by some young people.
As mentioned earlier, we said that talking negatively about body image can eventually lead to health and mental problems. Young people believe that losing weight will enhance their appearance and make them feel better about themselves and their bodies. Once people begin to think like this, they start restricting what they eat and exercise far too much. This then develops into full mental health problems regarding eating. They can cause such distress that interferes with a person's ability to lead a normal life.
We interviewed two well-known local figures for this article, the first being Tony Markley, the Mayor of Silloth, who underwent gastric band surgery a few years ago and since has lost a great amount of weight.
Before
After
Here are the highlights of the interview:
Josh: What made you decide you get a gastric bypass?
Tony: Years of fighting against weight loss and reaching an age and reaching a weight of 31 stone, understanding that as a haulage contractor you're overweight with a wagon. You bust your tyres, you bust your bearings, you bust your springs, but the limbs of your body stay exactly the same. Your knees and hips start to go and the manoeuvrability gets to be a question, plus health concerns. That's what made the decision to try and lose weight, I've tried to lose weight all my life but I always put it back on again.
Josh: Do you agree that people get a gastric bypass as an easy way of losing weight?
Tony: It's not an easy way of losing weight. Never let anyone tell you that. Weight obesity is a disease that you live with all your life and until you've had it, you never realise. I tried since I was at school, I was on a dietitian at school. I was 60 years old in April. I know what people say "if you didn't eat you wouldn't be big" but everybody's different and it's not as easy as that for some people. It's a way out to get you back on a lifestyle.
Tony: I'm happy to promote it, I think it's a marvellous opportunity given to people these days. It's life changing.
We also did an interview with Jonathan Sunter about his weight loss who has been documenting his successes on his Facebook page and has lost more than 3.5 stone so far! You can find the video interview at the start of the article.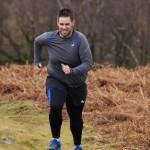 We also interviewed Miss Cumbria to see their thoughts on the body image issue. They told us that they don't decline anyone based on their body type and they instead look for role models and accept people of all backgrounds. They do this because it allows women to gain confidence and girls of sizes 18-22 have won the competition showing that they don't think just slim is beautiful.